Pregnancy Chiropractic at Crouse Chiropractic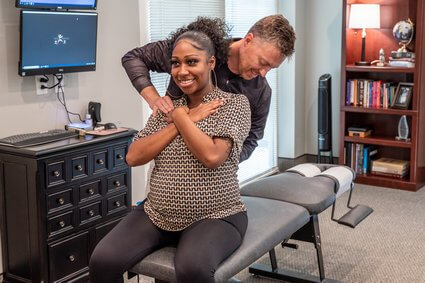 There's no more exciting time of life than when you're expecting. With much to look forward to, you want to make sure your health is in top shape. Crouse Chiropractic is a trusted provider in our community of pregnancy care, often referred to by local OBs.
Pregnant women can't take medications for fear of how they may harm the baby. Chiropractic is a natural way of helping common issues such as
Breech presentation
Headaches
Low back pain
Numbness and tingling in the arms and hands
Sciatic pain
With care, you won't only feel better; you'll find it's easier to move around, you're sleeping better or can complete work duties and take care of your other children. The birthing process is also positively affected by chiropractic. When the pelvis is in a normal, relaxed state, the birthing process is quicker with less chance of interventions required.
It's frightening if you hear your OB mention that your baby is in breech position. You don't want to have to resort to a C-section during your birthing process. Our techniques can help your body relax and work in a natural fashion. As a result, your baby may turn around on its own.
Your safety is always our foremost concern. When you're expecting, we'll tailor our adjustments to your changing body. On your first visit, we'll talk to you about how your adjustment can be carried out in ways that are comfortable and safe.
Since your body is relaxed during pregnancy thanks to the hormone relaxin, not much force is needed to make the appropriate adjustments. Most of our patients sit up after an initial treatment and say, "That's it? That was great! It wasn't what I imagined it would be."
You want to get the most out of your insurance coverage. We are in-network providers with most insurances, including Medicare and Medicaid. We'll help you with the details of your plan and what is covered for our services. Then, we'll explain it all to you so that there are no surprises. You'll know exactly what to expect moving forward.
Function At Your Best
You can start chiropractic at any stage of pregnancy, including preconception. Postpartum care is just as vital as care during your pregnancy. Since you lose hormones, your weight shifts again and you're living off less sleep than ever, it's essential to prioritize your health. Contact us today to book a time for pregnancy chiropractic care Hickory!
CONTACT US »

Pregnancy Chiropractor Hickory NC | (828) 327-4882