Chiropractic Care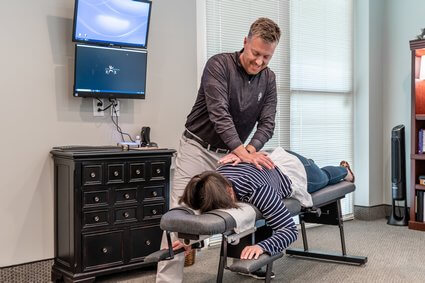 At Crouse Chiropractic, we provide natural and effective chiropractic care to our patients through specific adjustment techniques tailored to meet your needs. Why do we believe in chiropractic care? Not only is it gentle and safe for almost everyone, it allows us to take pressure off of the nerves in your body that aren't functioning correctly.  Chiropractic is all about restoring function—when your body is working right, you'll be at your best.
Whether you're looking for pain relief from a new injury or an issue you've been dealing with for years, we're confident that we can help you.
Benefits of Chiropractic Care
My job is to be the instrument that helps your body heal itself." Dr. Crouse
When patients visit us for care, they quickly realize how much better they feel. Not only does their initial pain complaint start to correct itself, but they'll feel more energized, happier and able to participate in the life they enjoy. From children to senior patients, we employ a variety of adjustment techniques that can be modified to fit your specific needs.
Chiropractic Techniques
Dr. Crouse is experienced in the following techniques:
Diversified and Gonstead: Both styles of adjustments aim to free up misaligned vertebrae and take pressure off of your nerves in the neck, mid back and low back, and hips. Patients may hear a popping sound during this treatment.
Prone Specific: During a treatment, patients lay face down for a very specific and gentle adjustment. There is very little to no popping that occurs—often making it the perfect adjustment for someone new to chiropractic, a child or elderly patients.
Dr. Crouse may also include modalities into your care plan like intersegmental traction to gently stretch the spine and electrotherapy to loosen tense muscles. If you have been a previous patient of chiropractic elsewhere and enjoy a specific style of adjustment, we encourage you to let us know! Our goal is to make you feel as comfortable as possible in our care, which is why we make sure to go over exactly what we'll be doing in your adjustment. If you have questions at any time, please ask!
Are You a Candidate for Chiropractic Care?
We'd love to help you find out. Contact our practice today to schedule your free, no obligation consultation. Stop living in pain and return to the activities you love!
CONTACT US »

Chiropractic Care | (828) 327-4882